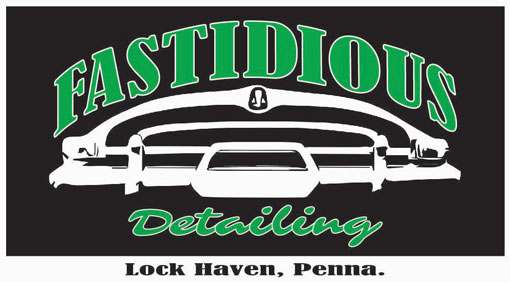 Taking Detailing to the NEXT LEVEL…
Fastidious Detailing LLC
84 Susquehanna Avennue
Lock Haven, PA 17745
Jeff Stover – 570-660-6102
jstover33@comcast.net
ABOUT US
Fastidious Detailing had its start about five years ago.  Slowly we have expanded our business and built a detail studio seen here.  We push to be at the leading edge of the detailing industry.  We attend the SEMA show in Las Vegas to network with the leaders in the detailing industry and stay abreast of the latest products and technologies.
Born and raised in Detroit, I guess I have always been a car guy.  I have been "washing and waxing" cars since I was twelve.  This photo shows me in front of my Dad's '53 Hudson Hornet.  Somehow he was able to get the factory, also in Detroit, to install a high-performance cam shaft in this car.
The Hornet was the first muscle car (some will argue it was the Olds Rocket 88).  Said to be "over-built and over-engineered", the Hornet had a 306 cubic inch straight six with aluminum heads pumping our 277 lb-ft of torque.  Among the first unibody cars, its roof was a foot lower than the rest of the Detroit offerings.  Its handling and torque allowed it to thoroughly dominate early 50s NASCAR.  Despite it being way ahead of the times, the public wanted V-8s and Hudson could not afford to retool.   Sadly, the marque was absorbed into Nash in 1955.
The Hornet legacy was revived in the Pixar animation, "Cars" as "Doc Hudson" Piston Cup Champion, with Paul Newman doing the voiceover.
The Hornet grill is the inspiration for our logo.
Jeff