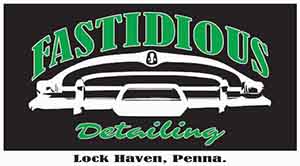 We offer Undrdog Pro+ and IGL Kenzo!

Why Ceramic Coating?
Before we explain the benefits of a Ceramic Coating on you vehicle, let's first look at the hierarchy of paint protection.  
WAX
This is the old standby for decades.  We have top quality carnauba waxes in our arsenal.  Carnauba wax is sometimes said to produce a "warm" gloss often favored for show cars or classics.  It beads well at first but protection may fade as soon as one or two months for a daily driver that spends most of the time outside in the elements.  For a "garage queen" weekend ride, wax will last longer.  If you want carnauba on your car, we can certainly oblige.
ALL-IN-ONE
The All-In-One or AIO is extensively used by professional detailers.  We use the best available AIOs for our Level 3 Fastidious Clean, Polish and Protect.  Years ago, these products were called "cleaner waxes".  The new AIO products now available contain sophisticated diminishing abrasives that, with the correct buffing pad and technique, provides a substantial amount of pain enhancement plus protection.  Typically, you can expect about 70% of the swirls (small scratches easily seen in the sun) removed with our AIO process.   You will see a high gloss and much better paint clarity with our Level 3 package.  Simply put, an AIO, when done correctly, gives our clients a "lot of bang for the buck".  The AIO products we use leave about three months of protection within the product.
SEALANT
As in most things, technology advances.  For a number of years, most professional detailers have migrated to a group of products called "sealants".  There are even some sealants that are called a "wax" because that is what most consumers look for in automotive paint protection.  In the large marketplace of sealants, some may be "hybrid" or "contains carnauba".  In any case, we use a top-quality professional grade sealant.
CERAMIC COATINGS
A coating, like our Undrdog Pro+ (Teflon and Silica) or IGL Kenzo (SiO2 Silica) , is a substantially more sophisticated product that provides YEARS of protection.  A ceramic coated vehicle is the ultimate in protection and gloss.  A ceramic coated car stays cleaner longer, is much easier to wash and much better protected from the element, such as UV rays, salt and other corrosive road grime.
A proper application of any coating requires extensive preparation.  The surface of the vehicle is carefully washed, contaminates are removed both by clay bar and chemically.  You have the option for a single-step polish or multi-step correction (latter is extra cost).  The surface is then treated with a solvent to remove any polishing oils or anything that interferes with a "squeaky clean" finish ready for the the two-part process to apply our pro-only coatings.
Call, text or email today to talk about a coating for your valuable ride.